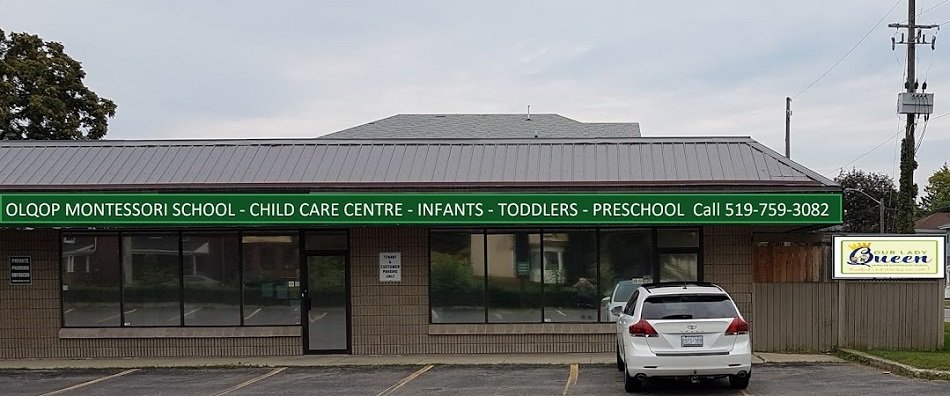 BUILDING BETTER CITIZENS FOR OUR FUTURE!
Our Lady Queen of Peace (OLQOP) Montessori School in Brantford
Welcome to OLQOP Montessori School. We are open to all denominations. Our school takes pride in our quality early childhood education programs for infants (0 to 18 months), toddlers (18 months to 2.5 years) and preschoolers (2.5 to 5 years).
The Montessori Approach to Academics
Academic understanding in preparation for elementary school is provided through Montessori methods and materials. The Montessori Method is based on the premise that education should be an aid to life. In order to develop their physical, intellectual and spiritual powers to the fullest, children must have freedom—freedom to achieve through order and self-discipline. Respect for a child's personality and trust in his/her inner potential are prerequisites to the foundation of an adequate educational alliance. The Montessori Method is designed to assist the child in developing the skills and self-confidence needed to fulfill his/her potential.
Helping Your Child Develop Self-Discipline & Confidence
We are a school where the child develops self-discipline and learns to live in peace and in harmony with others. We believe the early years of education are what form a strong solid foundation for academic achievement in the future.
Tailored Approach to Teaching
We are a school dedicated to love and understanding. Each child is respected as an individual; therefore, teaching methods, approaches and instructions are tailored to the child's individual learning needs. Helping children to learn well and prepare them for future studies is our long-term goal.
Our school proudly participates in raising the bar on quality, in delivering a good and reliable service to families, and maintaining safety throughout the school.
BOOKING A VISIT
Call Or Email Us